Today we're excited finally to show you what we've been working on with the folks at NVIDIA these past few months.
With Gradient, our developer-first ML platform, the guiding methodology has always been: How can we make developing ML models as easy as building a modern web app? And what tools can we build to enable software developers from different domains to be successful in machine learning and deep learning?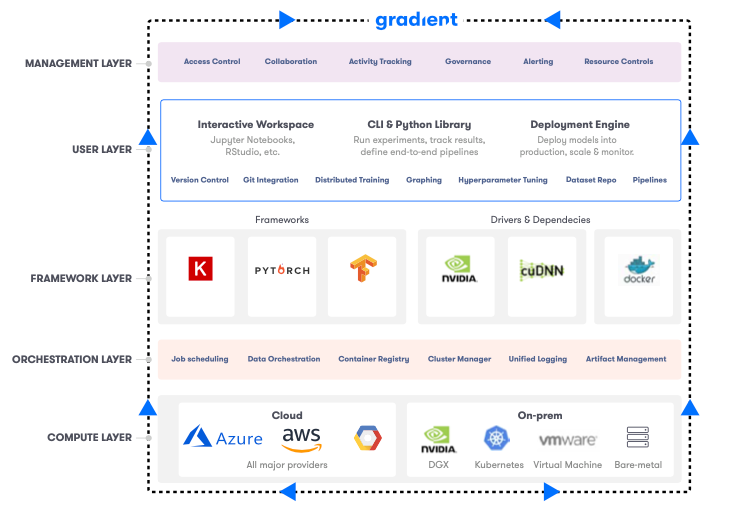 If you've been following Gradient for a while you know that we also champion the use of agile methodologies in machine learning. We believe that best practices like CI/CD are essential for the mass adoption of  machine learning  and have put forward other practical concepts like MLOps.
To date we've helped tens of thousands of researchers, data scientists, and AI engineers work to build deterministic and reproducible workflows on top of commodity cloud resources. Our tools have unlocked cloud-based GPUs and cutting-edge distributed processing for thousands of designers, engineers, researchers, and more. And earlier this year we spun-up our millionth virtual machine!
One of the core missions of Gradient is to abstract away complex compute infrastructure for machine learning engineers. Our users love the portability of Gradient and have asked for more ways to scale ML workloads from individual workstations to the cloud.
The cloud-native approach has meant that Gradient supports GCP, AWS, and Azure with ease and we just launched an open-source installer for running Gradient on any other environment you can imagine — from your local computer to the cloud.
Today, we're thrilled to announce a formal partnership with NVIDIA motivated by our shared vision for AI-enablement in the enterprise.
With this partnership, we have developed first-class Gradient support for any DGX system from NVIDIA right out of the box.  
This is a big deal for a few reasons:
NVIDIA makes many of the most powerful chips for AI today and the DGX is a world-class platform for serious AI computation
Gradient is now fully supported out of the box and has been carefully tested with NVIDIA to ensure a first-class experience from installation to production inference
This release lets you easily connect cloud resources to any on-premise DGX systems, bringing powerful compute to your data and unlocking collaboration and visibility across the organization with a unified management experience
As a charter member of the DGX-ready software program, we're excited to offer fully validated support for NVIDIA DGX deep learning architecture.
John Barco, senior director of DGX software product management at NVIDIA, has this to say:
"We developed our NVIDIA DGX-Ready Software program to accelerate AI development in the enterprise. Paperspace has developed a unique CI/CD approach to building machine learning models that simplifies the process and takes advantage of the power of NVIDIA DGX systems."
If you'd like to learn more, we would love to chat.  Our enablement team for Gradient Enterprise offers setup assistance, solutions architecture, and enhanced support for DGX customers  – so please get in touch.
It's an inspiring endeavor to build technology that will enable a generation of builders and we undertake it with great pride. We're excited to grow this partnership with NVIDIA and we can't wait to show you what we do together.