1871 is a nonprofit innovation hub in Chicago that brings together founders, innovators, and leaders building companies on the forefront of technology.
We were excited to be able to sit down with Alex Castrounis, AI Expert in Residence and long-time partner of 1871, and talk about some of the work 1871 is doing. In particular we were interested in how 1871 is able to build partnerships between students studying machine learning and companies delivering machine learning applications.
Let's dive in!
Paperspace: 1871 is the largest business incubator in Chicago. Can you tell us a bit about the mission of the organization?
Castrounis: 1871 exists to inspire, equip, and support early stage, growth stage, and corporate innovators in building extraordinary businesses from idea to Fortune 50. Together, an expansive community of founders, leaders, innovators, and supporters is advancing the world forward and shaping a brighter future.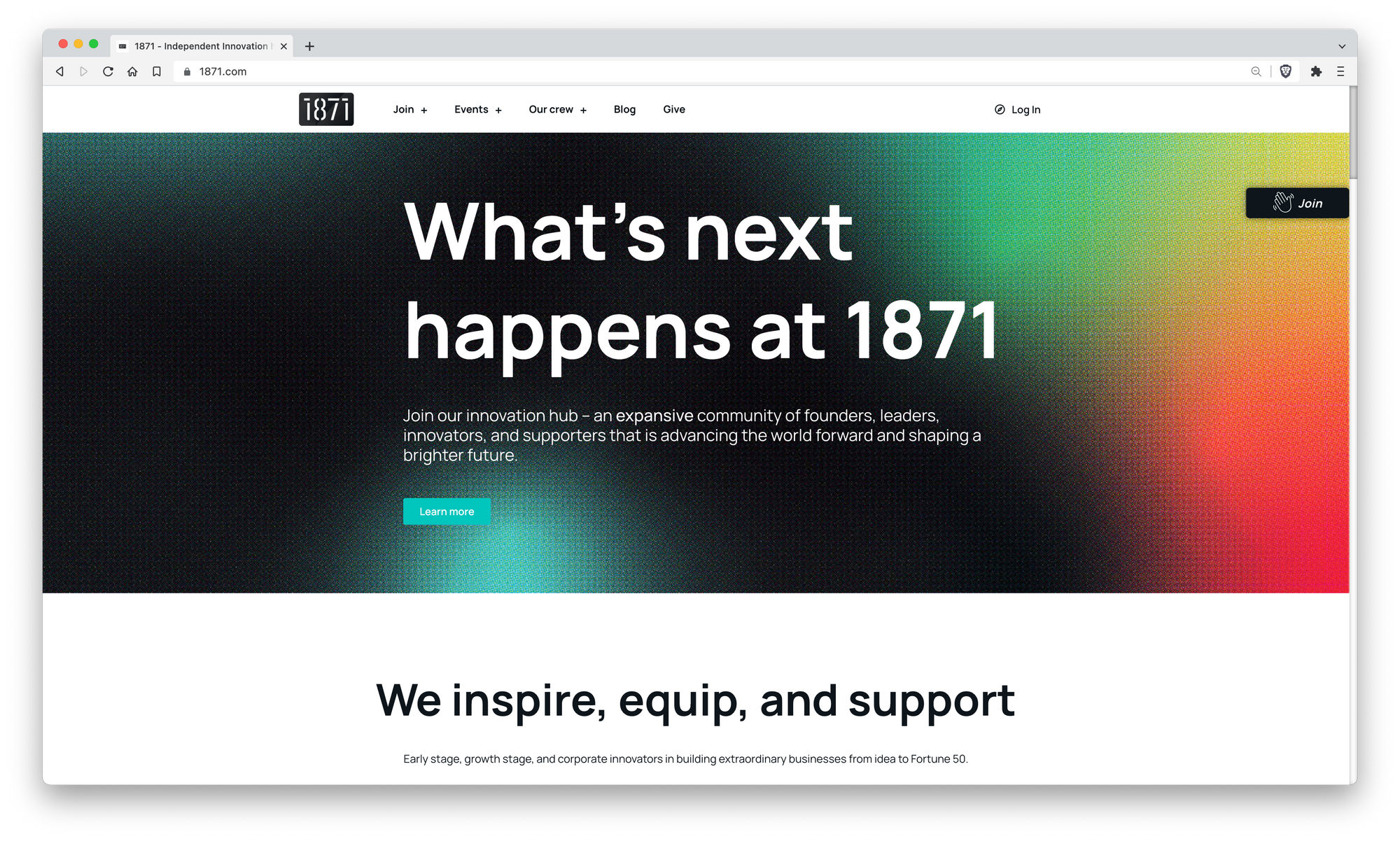 Paperspace: What kind of projects or work does the organization support when it comes to machine learning and AI? What kind of support does 1871 provide for students entering the ML world?
Castrounis: 1871 is uniquely positioned to help bridge the gap between emerging university talent and corporations to solve real problems, while also scaling the development and retention of diverse technology-led problem solving talent in Chicagoland.
In relation to machine learning and AI specifically, 1871 has created an AI Student Consulting Program in partnership with Northwestern University and Northeastern Illinois University to help cultivate a more diverse and skilled workforce here in Chicago, as well as drive innovation for partner companies. The program brings together talented student teams, experts in the field, and businesses who want to engage in artificial intelligence learning and the application of AI and machine learning to solving real-world problems.
Work is done collaboratively in teams of students from multiple universities, and in contrast to traditional internships, the teams operate in more of a service provider-client style consulting capacity. This model allows the students to work with students from other universities and partner company stakeholders directly, while also developing many real-world soft skills and delivery-related skills not typically encountered in traditional internships.
In addition, 1871 offers regular programming and support for students that helps them learn more about the tech world and find new opportunities in the industry, including Tech Challenge for aspiring coders, Intern & Job Fair, and Campus for aspiring entrepreneurs and tech professionals. 1871 also hosts monthly virtual tech talks where experts discuss the latest in emerging tech, with past topics including machine learning, drones, and more.
"We've provided the Paperspace Gradient platform as a development resource, which has allowed the program to operate much more efficiently in terms of time and cost, while also enabling the students to dive right into unconstrained development work instead of spending lots of time with DevOps and spinning up custom cloud environments."
Alex Castrounis, AI Expert in Residence, 1871
Paperspace: One of the things we know about the 1871 program is students from universities are matched with companies for internships – in the context of machine learning, does this give students the opportunity to work in applied ML a little bit? To let students learn something about real world machine learning problems and applications?
Castrounis: As part of the program, 1871 works closely with partner companies to provide a well-formed problem statement and relevant domain-specific context and resources. The problem given is an actual problem that the company would like to solve, and are chosen specifically to be strong candidates for artificial intelligence and machine learning solutions. The student teams then perform AI/ML research and hands-on solution development throughout the program.
This opportunity goes well beyond students working in applied ML in a minor capacity. We've had student teams perform advanced AI research while diving straight into applying some of the most state-of-the-art AI/ML models and techniques to solve problems, including using self-supervised learning, transformers, LSTMs, XGBoost, and other advanced machine learning techniques.
In many cases the students have been able to train and optimize models that perform relatively well on the given problem or task, and have been able to outline a roadmap with recommendations for continued project development beyond the program cohort.
Paperspace: What kinds of resources and tools do students need to succeed? Why is it difficult to provide compute access to students generally?
Castrounis: Having the "right" data is critical to the success of almost any AI/ML project. A significant part of each cohort's work is around gathering and preparing data for downstream machine learning training and modeling work.
Beyond data, the program strives to be tool and platform agnostic, and we believe in using whatever tools are most familiar to the team and/or get the job done best. Perhaps most importantly, we have wanted to make sure that the teams are not constrained by lack of data storage or compute-related resources.
As such, we've provided the Paperspace Gradient platform as a development resource, which has allowed the program to operate much more efficiently in terms of time and cost, while also enabling the students to dive right into unconstrained development work instead of spending lots of time with DevOps and spinning up custom cloud environments.
Providing compute access to students can be difficult for many reasons, especially when working with collaborative student teams from different universities, where each university may use different tools and internal systems in general.
In some cases students may have limited access to large cloud provider services through their university, although the setup and management of such resources is typically very time consuming, requires DevOps-related expertise and experience, and is generally beyond the scope of the program.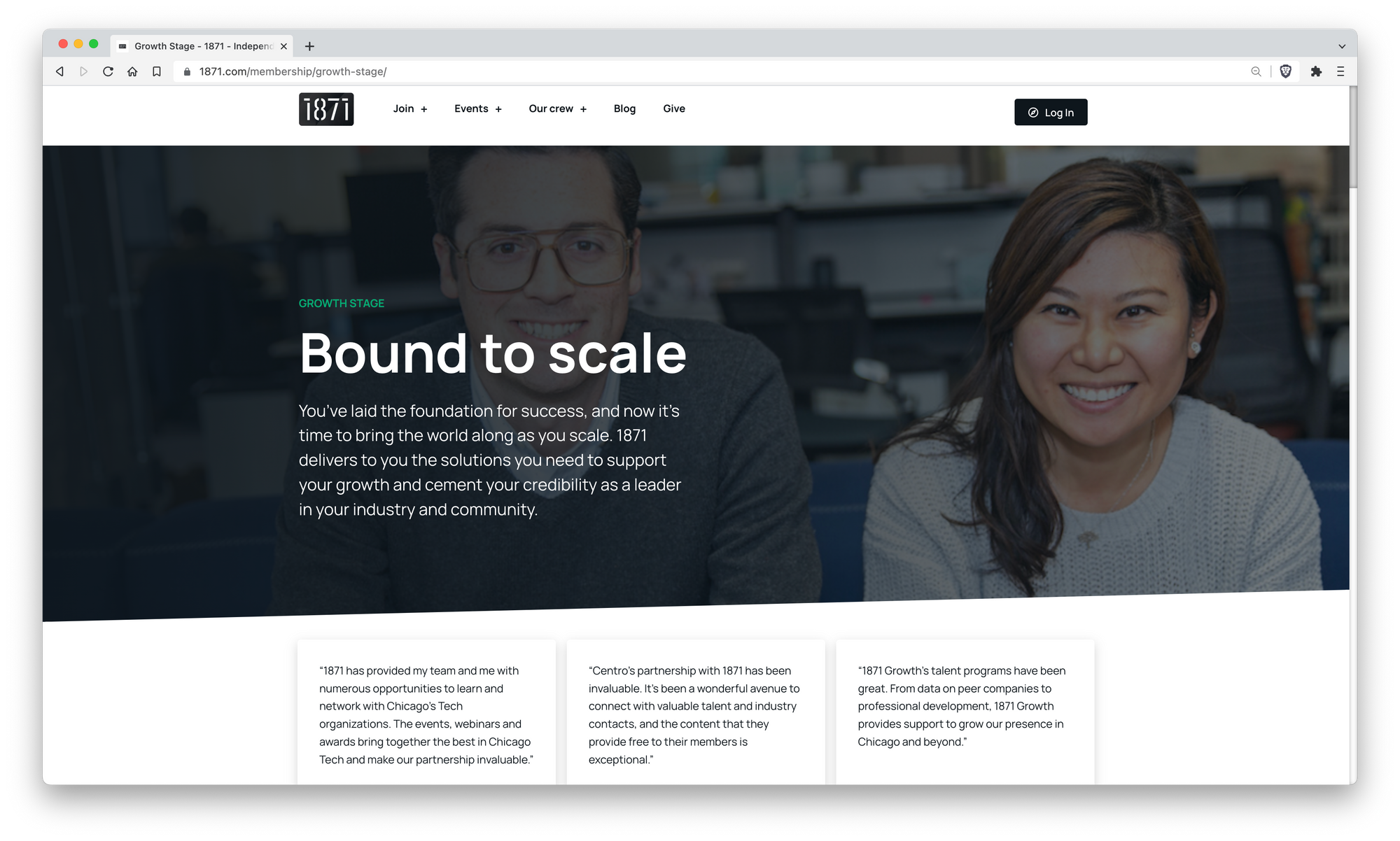 Paperspace: The way Paperspace is involved with 1871 is providing Gradient Notebooks to students. What are some of the ways that students are using notebooks to deepen their work? Do students primarily work in Jupyter Notebooks or are they building their own development environments?
Castrounis: The Notebooks feature of the Gradient platform has been a great collaborative tool for the student teams. It provides base environments with pre-installed libraries and frameworks to help accelerate development work. The students are also easily able to change compute resources as needed for a given task.
While most of the students work in Notebooks since it is a great tool for rapid prototyping and development, we've also had students work primarily with Python scripts that are executed outside of the Jupyter environment.
Paperspace: What else should we know about the 1871 ecosystem?
Castrounis: As an independent, nonprofit innovation hub, we're one of the only organizations in the country that brings together founders, leaders, investors, and mentors into a single, unified community. We provide the products, community, and resources members need to reach new levels of creativity. To date, our members have raised $3.5B in venture capital and created ~14,500 jobs, with 850+ alumni companies still scaling. Also, while we're rooted in Chicago, our reach spans the globe, which means that members can access our support and resources anytime and anywhere.
Paperspace: What's the best way for our readers to get involved with 1871? Is there an application process?
Castrounis: The best way to get involved is to attend an early stage info session held weekly on Tuesdays and a growth stage info session held monthly, where our team will discuss everything you need to know about 1871, its benefits, and how to become a member.
For more information, be sure to check out the 1871 website.