How to enable GPU Acceleration in Photoscan
With Paperspace's powerful GPU's and Photoscan's GPU Accelerated workflow, processing of large image datasets can happen in hours not days. This walkthrough will cover the power of GPU acceleration with Photoscan and Paperspace.
Want more exposure?
If you would like your photogrammetry workflows featured by Paperspace, send us an email to hello@paperspace.com, or tweet us including the hashtag #PoweredByPaperspace
Tutorial Outline
1. GPU Acceleration
Agisoft Photoscan offers the ability to leverage either your machine's CPU or GPU when processing image datasets. With their GPU Acceleration feature, what would normally take close to days to process can now be done in a couple of hours.
This speed increase depends highly on the project, the number of images, the image size, and the image content. As a rule of thumb, projects with high overlap, high image content and thus with a high number of keypoints benefit more from the speedup.
So how we do enable this in Paperspace?
2. Enabling and Disabling GPU processing
The use of the GPU can be enabled or disabled in the Processing Options:
In the Menu Bar, click Preferences
Select GPU.
In the GPU section, select or unselect the GPU device.
3. CPU vs GPU
We've put together some helpful benchmarks to between CPU and GPU on Paperspace's P5000.
We used the benchmark file provided by Agisoft in order to build a dense cloud model on Ultra High settings.
Benchmark Model Stats
84 Cameras (Images)
Image Dimensions: 5184 x 3456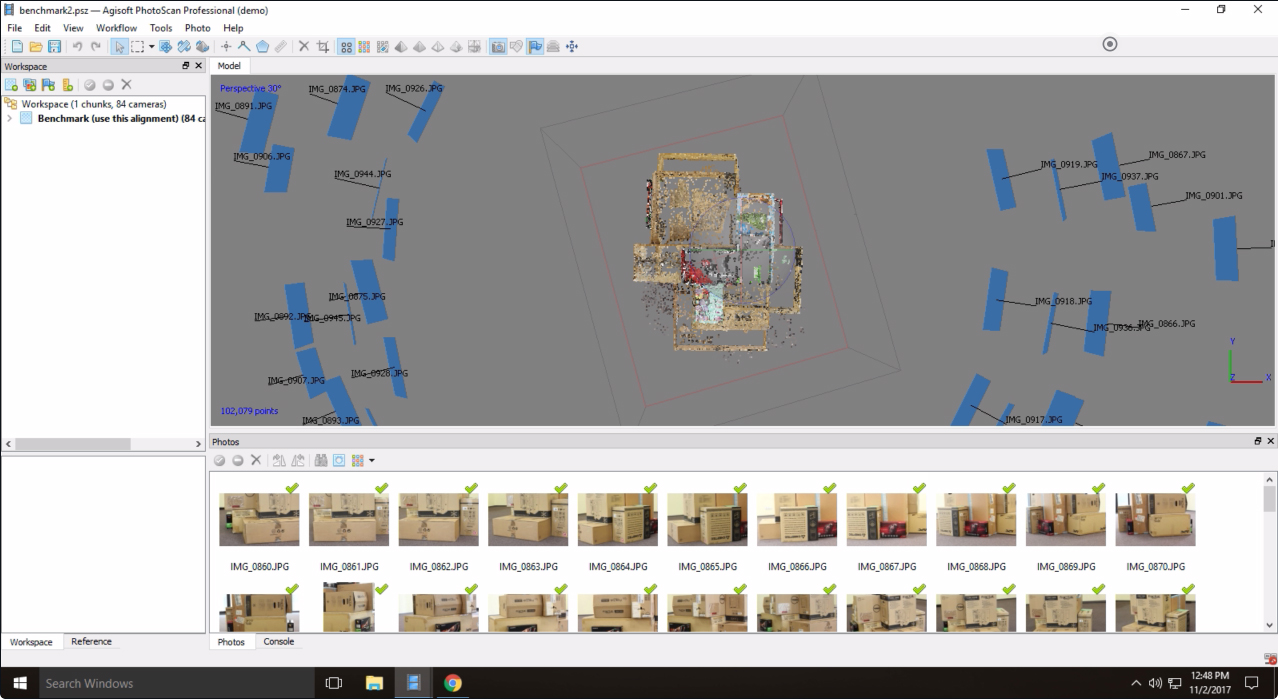 Steps for Benchmark
In the Menu Bar, click Workflow > Build Dense Cloud

Select Ultra High quality.

Select OK.
P5000 - CPU
Note: In order to test the CPU -- GPU should be disabled.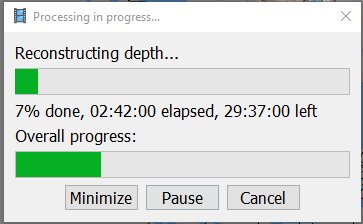 This model would take an estimated 32 hours to complete processing.
P5000 - GPU + CPU
Note: Make sure CPU is also enabled in the GPU tab.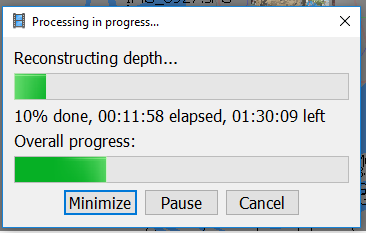 This model would take an estimated 1.75 hours to complete processing.
4. Conclusion
Photoscan's GPU Acceleration is a powerful feature that can make use of Paperspace's NVIDIA GPU infrastructure. In our simple benchmark between CPU and GPU, we demonstrated the huge gains Paperspace's infrastructure can provide to GPU accelerated photogrammetry in Photoscan. We hope you'll share your own results and experiences with us at hello@paperspace.com.
You can learn more about Agisoft Photoscan and best practices for image capture from their User Manual.
Enjoy!
To build your own photogrammetry studio with Photoscan, sign up here.
We need your help!
We're looking for content writers, hobbyists and researchers with a focus on IT workflow and Machine Learning to help build-out our community. Email hello@paperspace.com with a writing sample and tutorial ideas